NDPTL SUPPort fund
As one tool to reach its aims, NDPTL has a dedicated financing instrument–the NDPTL Support Fund. The targeted purpose of this Fund, established 21.12.2012, is to accelerate the implementation of major infrastructure projects within the Northern Dimension region. This is achieved by aiding beneficiaries in transport project preparation and implementation, mainly via studies.
The work of the Support Fund is governed by a dedicated Assembly of Donors (AD), consisting of representatives of the donors–EU, Finland, Norway and Germany.
The NDPTL Support Fund is managed by Nordic Investment Bank (NIB) (Fund Manager) which has its offices in Helsinki. NIB also hosts the Secretariat of NDPTL.
Please note that the NDPTL Support Fund does not accept applications for new projects at the moment.
NDPTL Support Fund projects 2014-2022 have been co-funded by the EU via contract ENPI/2014/352-339.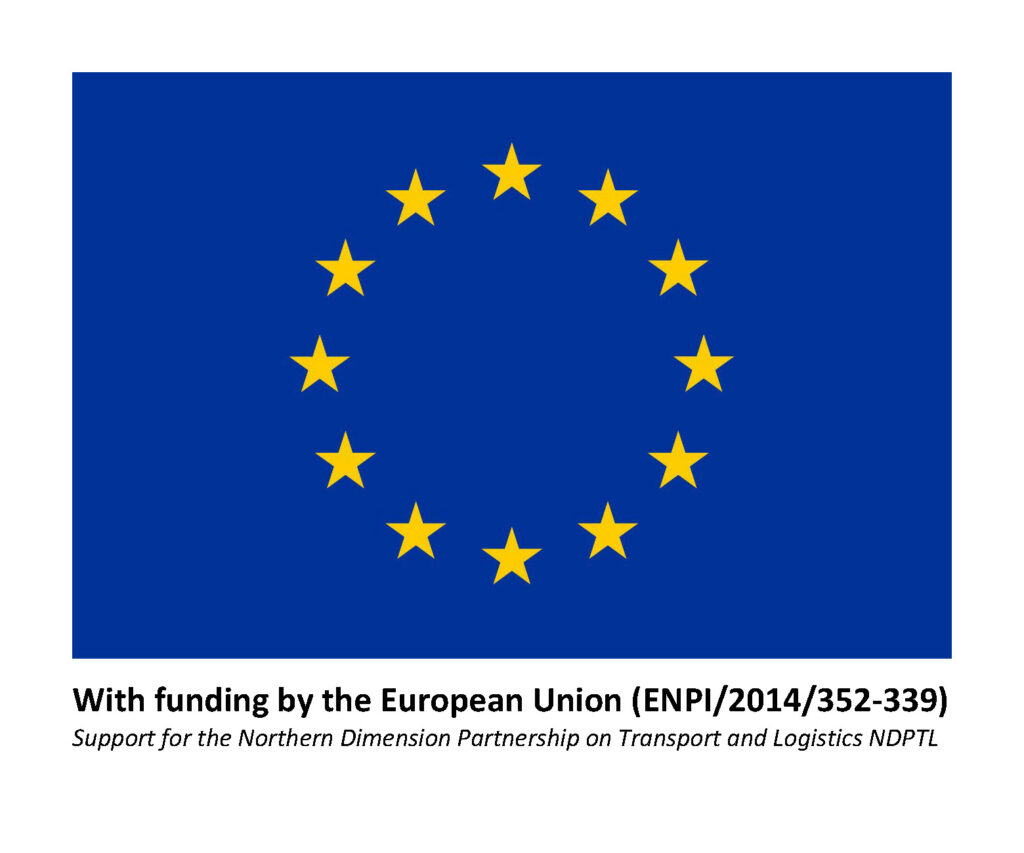 Projects
001-2021 eCMR in ND Region, Lithuania. 2022-2023. Allocated Maximum Grant EUR 350 000 (under reporting). (LT)

Studies and software development/piloting of solutions for digital exchange of the standardised freight transport information (implementing UNECE eCMR & EU eFTI regulation). Contractor: Infobalt (LT).
002-2015 Luleå Iron Ore Port, Sweden. 2016-2022. Final Grant: EUR 702 353. Total Reported Costs: EUR 1 813 095. (SE)

Studies and hydrographic surveys for the preparation and detailed design of the expansion and further development of the overall Iron Ore Port (Malmporten) project in Luleå. Contractors: Swedish Maritime Administration & Port of Luleå, Sweden. Project Co-funded by the EU via contract ENPI/2014/352-339.
006-2014 Extension of the Deep-water container terminal in Gdansk, Poland. 2015. Final Grant: EUR 150 000. Total reported Costs: EUR 743 643. (PL)

Preparatory studies and planning for the expansion of the public deep–sea container terminal in the form of the second deepwater berth (T2) of DCT Gdask. Contractor(s): DCT Gdansk S.A. (PL).
Project
Number
Project Title
Country
Final
Grant
(EUR)
001-2013
Oulu-Kajaani Road
Finland
500 000
003-2013
Dry Port in Gdansk-Gdynia
Poland
52 000
008-2013
Saimaa Canal Infrastructure
Finland
29 022
0011-2013
Brusnichnoye-Vyborg Road
Russia &
Finland
192 900
001-2014
Elimination of Obstacles in Transit LT-BY
Lithuania
96 448
006-2014
DCT Gdansk
Poland
150 000
007-2014
Umeå-Vaasa Ports
Finland &
Sweden
262 869
012-2014
New Narvik Harbour
Norway
76 576
002-2015
Iron Ore Port Lulea
Sweden
702 353
001-2021
eCMR in ND Region (under reporting)
Lithuania
350 000
(allocated)
Total
2 415 692